As one of only fourteen commercial companies worldwide, RVE.SOL recently exhibited our KUDURA rural energy solution at the SUSTAINABLE INNOVATION EXPO 2012. It was held at the United Nations headquarters in Nairobi during the United Nations Environment Program Global Ministeries of Environment Forum (UNEP GMEF 2012). The event was organised by the folks at Climate Action Program.
An annual event, focussed on environmental issues and policy and is traditionally open only to government ministry representatives, it was a huge opportunity to get access to our target constituents in one place. The realisation that commerce and enterprise is critical to achieving the MDG's at a country level has wide spread caused impetus to invite private enterprises to take part in these discussions. As you can imagine, we jumped at the opportunity.
I was adamant about our having KUDURA on site – as they say, actions speak louder than words: our solution is simply more compelling to experience in person than on paper. This took some amount of sweat and toil to achieve – given the heightened security concerns in Kenya generally because of the Somalian situation and off course because of the senior level of ministers in attendance at the UNON site we had to push a very large container through some very small hoops.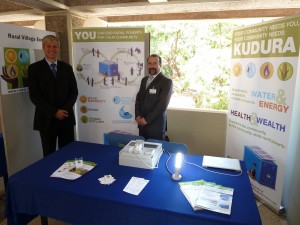 All said, it worked out in the end and was well worth it. We managed to really impress a number of ministries and some very interesting doors have been opened to us in those countries for developing business.
Check out our "what people are saying" page for opinions, comments and endorsements by interested parties and policy makers who were present at the event and had something to say about KUDURA and RVE.SOL.
I've also added some photos of the event to our Facebook page.
My sincere thanks go to Irene, Adrian, José for their contributions during the event. A special thank you to Sula and the Climate Action Program team who organised a very well run event and a very special thank you to Fanina and Millicent of UNEP for tolerating my bull-headedness and helping me with those hoops. I owe you all.
Below is a video of an interview with Vivian Vendeirinho (Founder of RVE.SOL) about the impact of KUDURA on rural poverty and further down the Climate Action Program's video short of the event.