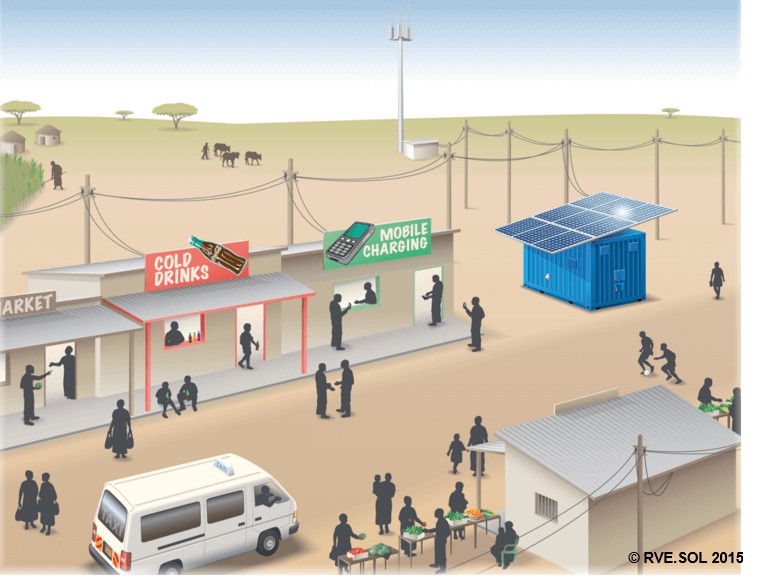 Social entrepreneurs fighting poverty with energy kiosks
RVE.SOL is proud to be quoted in another recent article on Kiosk Marketplace. Read the full article here or see below the text
Tweet this: #ruralelectrification #socent #energy #BoPbiz #KUDURA
April 2, 2015 By Bradley Cooper
When looking at third world poverty, it's clear that that the consistent lack of access to energy, water and other necessities make any improvement difficult. With few options, people living in rural areas in Africa and Asia have to rely on unclean water supplies and dirty energy sources such as charcoal. There have been many attempts by nonprofits to address this issue, but RVE.SOL, a social entrepreneurial startup, is addressing the problem with its KUDURA energy kiosk, throughout Africa.
"The KUDURA hub provides locally four things: clean water, electricity (for lighting, appliances, entertainment, telecommunications, etc.), biogas for cooking and biofertilizer for crops," Maria Burpee, marketing director for RVE.SOL, said. "These are utility services purchased by the community. These replace (at half the price) kerosene (for lighting), firewood and charcoal (for cooking) and unsafe, dirty water."
The KUDURA operates by taking materials such as raw water, animal waste and biomass and then converting it via purification sub systems and solar energy to useable resources.
One element that makes RVE.SOL unusual is that it is a for profit company that is involved in an area that has traditionally been tread by nonprofits such as WaterAid America. "RVE.SOL as a company generates revenue by selling the minigrid kiosk (KUDURA) — selling the actual infrastructure as well as a 20-year service and maintenance contract," Burpee said.
"KUDURA is NOT about charity, aid, or a gift," according to the RVE.SOL website. "It is about empowering communities with a sustainable, community-owned and -run, clean energy and water solution. As a result, communities control their own destiny and their practices protect the environment from harm."
The basis of RVE.SOL's ideology is to treat people in third-world-countries as just as capable as citizens of any other country. "We believe you cannot donate people out of poverty; we must treat people in developing countries as real consumers, this is called a 'sustainable development' solution," Burpee said.
"In our pilot in Sidonge, Kenya, we have initially seen an increase in savings as a result of more affordable energy services and savings is a first step to moving out of poverty, increasing food security, and improving health,"Burpee said.
"One key advantage of the KUDURA is that it essentially pays for itself. Our solution is actually an investment for the purchaser (a school, an NGO, a government, a local company operating in a remote area offering it to its employees) and thus the cost of purchasing is recouped in four to six years and after that starts saving money. This model works by way of revenue from selling the energy and water to the consumers."
One of the key goals of the KUDARA is to replace dirty and unstainable energy sources with clean, sustainable energy. For example, in Kenya the majority of the population spends half of their income on kerosene alone. Kerosene produces harmful fumes, which can be especially dangerous for Kenyan students using kerosene lamps to study late at night. In addition, these kerosene lamps produce 190 million metric tons of carbon dioxide emissions a year. Thus, by replacing these kerosene lamps with solar lamps powered by kiosks, rural residents can protect themselves and their environment.
However, RVE.SOL is not the only player in this field of sustainable development. Heri Madagascar is an energy kiosk provider which focuses on finding entrepreneurs within rural communities in Madagascar to manage the kiosks. The Heri kiosks, which are powered by solar panels, provide a variety of services including mobile charging and lamps. They are designed as simply as possible to make servicing inexpensive.
According to the Heri website, it has 18 kiosks that have created 70 jobs for rural residents and provided electricity for many communities.
Every sustainable solution has to be deployed in the context of the local community. Every village and town has its own challenges which have to be addressed by the energy kiosk provider. Sustainable development companies are developing new solutions to create more efficient kiosks. For example, Heri is working to ensure all of its kiosks are made by local materials to reduce costs.
"The future is full of exciting things; we are aiming to deploy this year with schools and communities mostly with a couple game-changing announcements," Burpee said.