Feira Ambiente 2012 in Angola; 2nd annual exhibition dedicated to Environmental issues
UPDATE: check out our photos from the event here.
At the end of this month, from May 30th to June 2nd, KUDURA will make it's debut in Angola at the 2nd Annual "Feira Ambiente 2012" in Luanda, Angola. In partnership with ESTPOR Angola, a subsidiary of EST Lda., we plan to launch KUDURA in Angola as an entry into what we perceive to be a very ready market.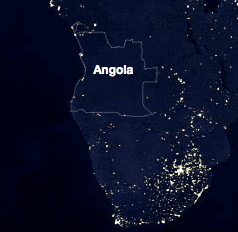 According to Wikipedia, Angola had the world's highest annual average GDP growth – 11.1 percent over the period 2001–2010! Despite this extraordinary growth, large parts of the country remain completely dark at night. The picture at right highlights the problem as compared to South Africa, one of the most extensively electrified countries in Africa. The white dots are actual light from cities as photographed by night. With a population estimated at 20M people in 2010, over 12M live of-grid, that is, do not have access to electricity.
Earlier this year in Nairobi, (Video: UNEP GMEF 2012 exhibition) we established contact with the Minister of Environment and her team – based on a high level of interest and a pressing need by governments globally to demonstrate measurable steps to achieving carbon emissions targets , we're taking KUDURA to Angola.
We'll be posting more information and media here from the event at the end of the month.