KUDURA Technology
"KUDURA" is a containerised hub that provides potable water and clean energy for lighting, cooking and productive energy use where there is none.
By providing rural clinics, schools, communities and small businesses with cost-effective sources of renewable energy and potable water, we are changing lives, sustainably.
Replacing open fire cooking with renewable biogas, we save their lives, save 14 trees and reduce carbon emissions by 4.8 tons per family per annum.
Providing a potable water source in the community reduces water borne disease and saves lives.
Replacing kerosene lamps with solar electricity reduces carbon emissions and increases productivity.
Adding organic fertiliser to agricultural lands increases crop quality and quantity, increasing income and health.
These services create an environment where people save money, are healthier and can generate more income. Ultimately, it creates wealth and eradicates poverty.
Contact us to discuss your needs or read on to see how KUDURA does it.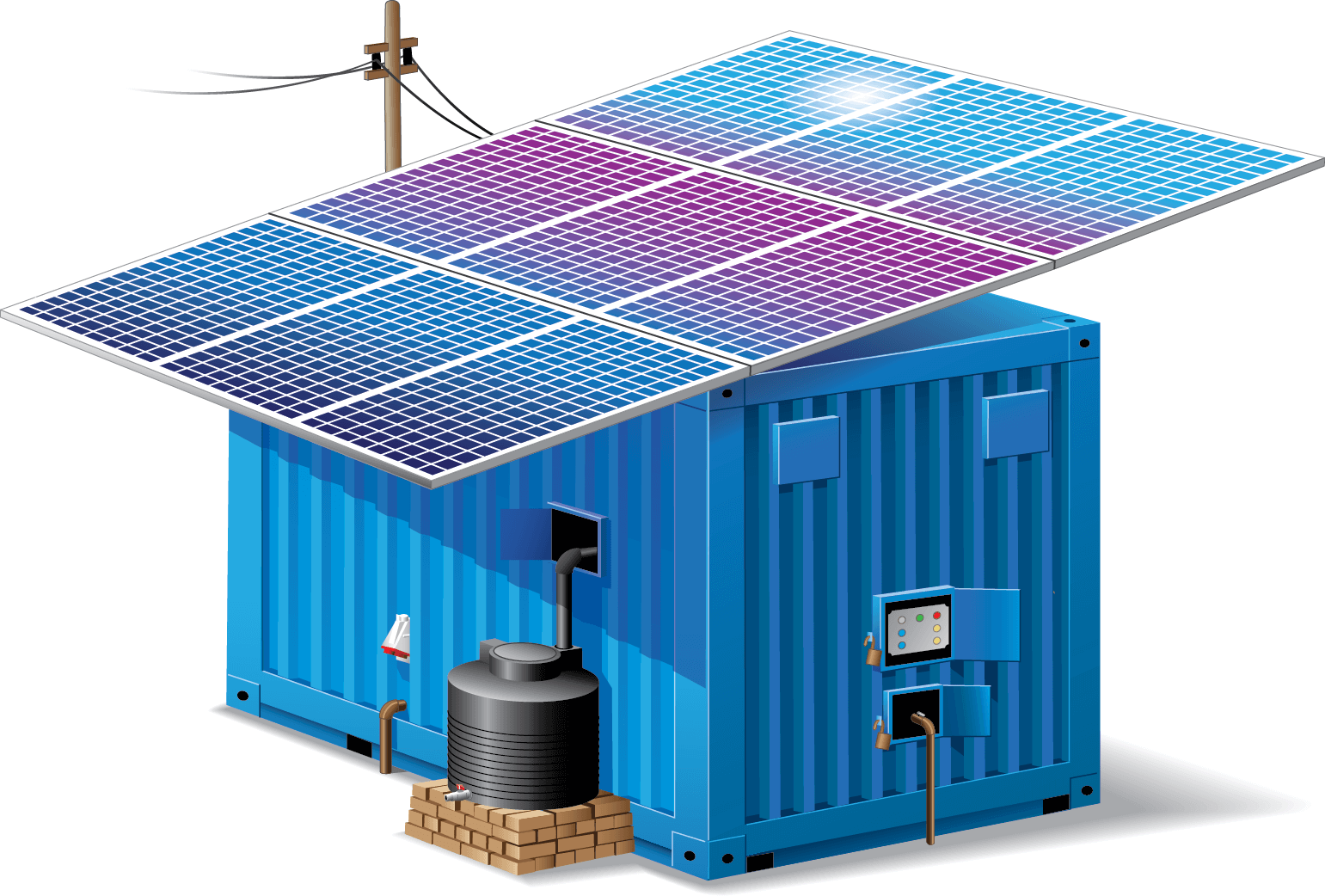 To reliably provide these services,
KUDURA
, the 
Rural Village Energy (RVE) Hub
 relies on world leading technology in the form of a number of discrete but integrated sub-systems: a 
Hybrid biomass/solar Photovoltaic
 plant, a 
Biogas and organic fertiliser
 plant, a 
Water Purification
 plant and a 
Central Monitoring
 system for remote oversight of the hub. The system is a scaleable, integrated and completely self-contained rural clean energy and water solution. Typical installations require less than 24 hours until "switch-on".
As inputs, raw water, agricultural waste, solar energy and animal manure are converted to potable water, electricity, biogas and organic fertiliser. These are stored at the installation site within the community and distributed to meet consumer demand on a "pre-pay-for-service" basis.
KUDURA is a custom designed, for-purpose solution – envisioned by us to fulfill a very particular purpose and solve a number of very specific problems holistically; it incorporates technology components from the world's leading manufacturers. Designed and built for maximum quality and reliability (ISO9000), it sets the standard for decentralised rural village energy and water solutions.
The application of this technology in the harsh rural African environment where dust, heat and possible lack of technical training can be prevalent, creates a new set of challenges. The African landscape is dotted with many failed interventions like water pumps, reservoirs and solar electricity solutions. A clear understanding of these issues, closely interwoven with consumer acceptance, is where our focus and value-add lies.
The benefits to rural life are many, including reduced deforestation and carbon emissions, improved health due to reduced consumption of raw water and smoke from open fire cooking, clean energy generated from renewable resources, decreased use of and dependency on kerosene, wood and coal, improved agricultural output and ultimately poverty reduction and wealth creation. Ultimately, access to potable water and clean, renewable energy sources creates an impetus for increasing time available for productive, income generating tasks and increasing wealth over time. Only in this way can we enable communities to reduce poverty. This concept has been extensively documented in various domains covering a diverse geography from the Phillipines to Asia, South America and Africa.
Rural Village Energy Hub Features